Sign up to stay informed!
* By providing your mobile phone number, you agree to receive periodic messages and reminders about upcoming election dates, voter registration deadlines, and relevant events.
San Antonio, the power is in your hands to decide what safety means
for OUR city!
San Antonio Justice Charter
Prop A, also known as the San Antonio Justice Charter, has been designed with one goal in mind: to create a safer San Antonio. With 67% of residents believing that this proposition will make our community safer, it is time to come together and take action!
SAPD officers shall not be responsible for enforcing the statewide law
Eliminate the enforcement of low level marijuana offenses
Except in extreme dangerous cases (such as hostage situation or exigent life circumstances) – where extensive procedure is laid out for accountability and transparency
Ban chokeholds by SAPD in ANY instance forever
Make the use of tickets instead of arrests for minor offenses permanent
Inform future public safety policy to follow goals to fight mass incarceration, push police accountability, and save scarce tax dollars
With Prop A, San Antonio will become the first city in the South to ban the use of city resources to criminalize reproductive health decisions.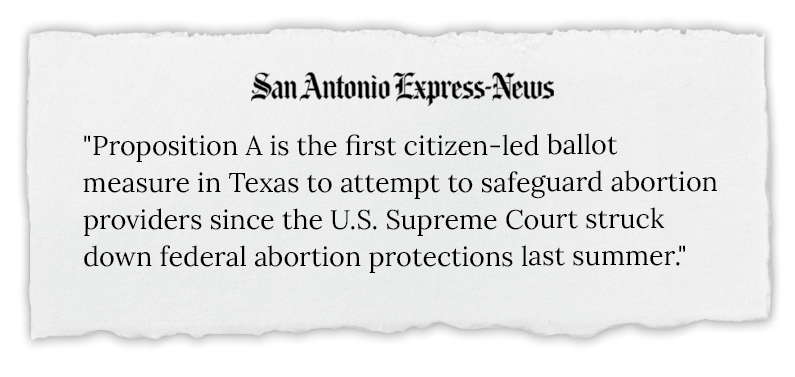 This initiative will safeguard reproductive autonomy and justice by decriminalizing abortion, ensuring that no healthcare providers are investigated for providing life-saving care, and that no one is investigated for helping someone seek an abortion. This is a fundamental human right that should not be infringed upon, and Proposition A will help safeguard the reproductive rights of San Antonians.
Ban no-Knock warrants + Chokeholds
No-knock warrants and chokeholds are dangerous tactics that threaten the lives of officers and citizens.
From 2010 to 2016,
81 civilians and 13 officers died

in the US from no-knock and quick-knock raids.
With Prop A, the San Antonio police will no longer use these tactics.
Proposition A will promote racial equity and justice in San Antonio by decriminalizing marijuana, which will reduce disproportionate targeting of Black and Hispanic community members. Being caught with just one joint can lead to a $2,000 fine and up to 6 months in jail.
65% of cite-and-release citations were given for
low-level marijuana possession.
Decriminalization will redirect resources to address violent crime and promote mental health and addiction treatment, making better use of tax dollars.
Instead of using City resources to arrest and prosecute individuals for marijuana possession and non-violent, low-level crimes, we can use these resources to address more pressing public safety issues.
The cite and release program has already saved taxpayers almost
$5 million, and saved officers an additional 4,000 hours in 2022.
This will not only help to create a more just and equitable society, but it will also ensure that our tax dollars are being used wisely.
Create an independent Justice Director
and instill accountability
We know that police will not police themselves. Prop A will provide our city with an independent and qualified Justice Director who will help implement and inform future public safety policy to align with the goals of Prop A. They will also be an additional conduit between the community members of San Antonio and the city police department.
69.42% of fired SAPD officers

who have gone through the current arbitration process have been rehired.
This is an important step towards reducing mass incarceration, mitigating discriminatory law enforcement practices, and saving public resources for greater public needs.
YOU can help make San Antonio a safer city for all of us!